March 5th, 2010
Together with some of my friends I left my home in Sicily to go on a trip to Ireland, an amazing island filled with endless green fields and joyful people.
This trip has been an amazing experience and the Irish people made such an impression on me for their friendlyness and curiosity. They were very welcoming and made all of us feel at ease.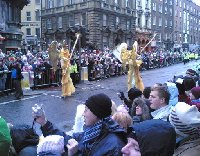 Photos of Saint Patrick's..
Then of course, the famous Guiness made us all unite! We stayed in Dublin, the capital of Ireland and filled with cosy pubs and bars. The costs of our stay were pretty ok and Dublin is way more economic than for example London.
One of my best memories of our trip to Ireland must be the Saint Patrick celebrations in Dublin, the 16th of March. The whole city transformed into some kind of carnival celebrating wonderland and we had the best time!