March 12th, 2010
In February I went to Dublin during a field trip. We stayed for two weeks and eventhough Ireland for me personally isn't one of the best travel destinations because of the bad weather and less exotic cuisine I did enjoy myself a lot and got to see some great things.
Ireland has a beautiful nature with lots of green and amazing parks. We also visited the hotel of Bono, singer of the legendary music group U2.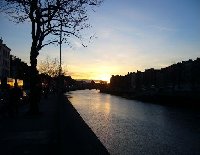 Dublin by night.
The city of Dublin is also worth a visit and full of nice bars, especially in the Temple Bar quarter where you will find a buzzy crowd at all times!
There are also a lot of nice shops to buy souvenirs which don't cost that much at all.