March 16th, 2010
In 2004 I went on a trip to Ireland and to my surprise I spend ten amazing days underneath the Irish summer sun. We travelled in the month of June and had great weather throughout our stay.
The days we spend in Ireland were amazing and we got to see some beautiful lanscapes covered in endless stretches of green grass lands.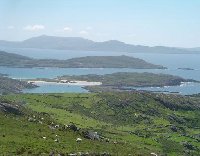 The amazing landscapes of..
The contrast with the clear blue sky was amazing and I had never seen Ireland this way. A great holiday in Ireland and for me a dream come true!
And then the Irish people are so friendly and open always welcoming and willing to help out with whatever problem might occur.
Great people produce great beer must have been the logical theory behind Guiness, because this Irish brand has never tasted so good as it did in Dublin!