March 12th, 2010
Mexico, and especially the region of Yucatan with all its touristic facilities has been to me more than the perfect travel destination. Here you will find everything you need to enjoy your holiday to the fullest!
The weather was great with temperatures above 35 degrees every day. The beach was also stunning and at night you could find enough entertainment in the nearest bars and clubs.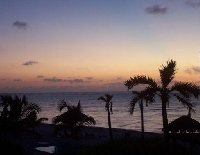 Panorama of Mexico by night.
There were also many interesting tours to choose from and I totally loved the quad ride!
We also went to visit some archeological Maya sites which were really impressive and as far as flora and fauna concerns you are definitely in paradise.
We saw wild monkeys, turtles, lizards and I even got to hug a bradipus! The nature is spectuacular and I don't believe I had ever seen so much green in my life.
Well, let me just say that my holiday in Mexico was perfect and I definately recommend it to anybody looking for an exciting but at the same time relaxing holiday!