March 31st, 2010
Arica is a small coastal town in Chile and known to locals as Surfer's Paradise. We decided to go sighteeing by bike and rented a pair of bicycles!
Unfortunately the weather wasn't great but the clouds didn't stop us from cycling down the esplanade of Arica!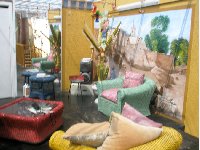 Great and cheap hostel in..
Due to the weather we didn't see a lot of surfers but we did find a nice pub at Tuto Beach where we stopped for a well deserved pitstop.
From the bar we had a great view of the cape and the beach in front of El Morro de Arica.
We also visited the port of Arica but besides the with grafitti decorated stones we found at the shore there was little to see here. After an intense tour d'Arica we returned to our hostel.
Arica is a great stop on your way in Chile or to Peru because it's located almost right on the border but make sure you to bring some sunshine!