January 4th, 2010
Arica is a town in the northern parts of Chili, close to the border with Peru. We decided to move here and spend some time on the beach as we were told that Arica is the surfersparadise of Chili, so off we went!
Its a good thing there are quite some beaches because Arica is a very dry place with little rainfall and not to far from the desert.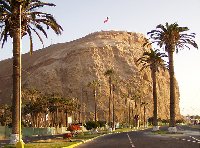 Road to Morro de Arica,..
Arica has more than 20 km of beach stretching along its coast with the sands of Las Machas, Chinchorro, La Lisera, Brava, Corazones and other beaches located from north to south. Las Machas is popular with surfers who come here to catch the big waves.
The main square in Arica, the Morro de Arica, forms the city's town centre with other attractions like the Catedral de San Marcos de Arica and the Playa de las Armas nearby.