April 8th, 2010
Near the monument of La Mitad del Mundo you'll find the interesting Museo Inti Nan located in a tropical garden.
The Inti Nan Museum tells us something about the ancient traditions and remains of the people from Ecuador, the Wuarani.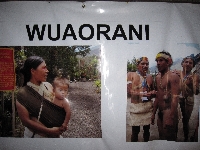 Photos of the Wuaorani..
You can also see how certain religios and culture related rituals were practised like the brutal Tzantza ritual which consists in the offering of people by cutting off their heads.
According to the Tzantza ritual it was necessary to sacrifice the heads of strong men in order to be able to pray to the gods or show ones dominance in a territorial battle.
You will also learn more about the hunting rituals and the animals living in different regions of Ecuador, the different seasons and the local ancient professions.
You'll also find a souvenir shop inside the Museo Inti Nan where you can buy all sorts of things.