September 6th, 2010
My best friend and I have been to Ecuador for a month of serious backpacking, something we both had never done before but were really curious about.
We had booked our flight to Quito, Ecuador and a hotel to stay in the first three days. The rest, we would figure it out later!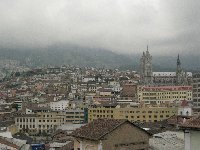 Tourism Quito
Our flight to Quito took about 15 hours and was perfect.
The company we had booked our flight with was Delta and personally I never had bad experiences with them so it seemed like a logical step.
When we arrived in Quito the weather wasn't exactly the best but luckily that improved while we were there.
Quito is the capital of Ecuador and a really beautiful city, definitely worth a visit when you're travelling through this part of South America. Besides, Quito is a common airport through which tourists and visitors arrive in Ecuador.
The historic center is absolutely stunning with some true architectual masterpieces like the Basílica del Voto Nacional and the meeting point of Quito, Plaza San Francisco. We tried to make as many pictures as possible and you'll will find some of them attached to this travel blogs.