November 10th, 2011
I had an amazing experience in Ecuador and for a period of three months I stayed in Quito for an international internship and got the chance to really get to know the local people and discover the beautiful landscapes around the city.
One of the most popular places and tourist attractions north of Quito would be the Mitad del Mundo and its curious museum which can be a lot of fun!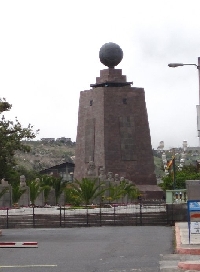 Where to go in Quito
Especially the view from the museum is gorgeous as you look down on the misty city of Quito surrounded by hills and green valleys, a great place to come for a day trip.
Another great thing to do is Canopy Zip Lining just outside of Quito city in the forests. Besides the beauty of the falls and the wildlife you might encounter it's the perfect adrenaline rush to add to your stay in Ecuador and of course you can't get a great view of the surroundings than when zipping down the mountains of Quito!