October 15th, 2010
Backpacking through South America I also travelled to Ecuador where I visited several beautiful places starting with Quito, the capital city of Ecuador and a true gem as fas as the colonial history of the country goes.
The historic centre of Quito deserves a walking tour around as even the small calle's and viale's are worth a peek or a photograph.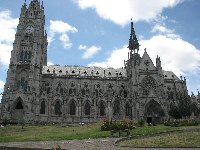 Vacation in Quito
I had read that the Basilica del Voto Nacional, one of Ecuador's landmarks and definitely the centre of attention in Quito, has the tallest church bells and that it was possible to climb up the basilica to enjoy an amazing view over Quito city.
Of course that view was the first thing I had to see during my afternoon of sightseeing in Quito and I'm really glad I can call myself one of the lucky people who have witnessed that panorama because it's imply stunning.
Besides the fact that the Basilica del Voto Nacional is located in the heart of Quito and that the architecture on the outside of the building on itself is a masterpiece, the climb up to the tower bells' is something I would recommend if you're looking for new and exciting tourist attractions around Quito because there's no view like it. For only a couple of dollars you will be granted access to the highest point of the main tower.
Among the other places I went to see on my tour around town were the famous Mitad de Mundo and the hill of El Panecillo from where the statue of Virgen de Quito looks out over the city to protect her. Especially at night this place can be very enchanting.