January 8th, 2010
From Quito my wife and I decided to take a jungle tour into the rainforest on the eastern parts of Ecuador. Some tour operators offer trips into the Amazone rainforest and arrange an overnight stay at one of the local villages.
We always wanted to do something like that and experience something different than the usual tourist tour. We certainly didn't regret booking the tour and had an amazing time.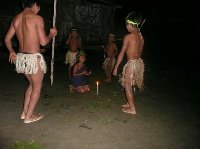 Traditional Dancing in..
Not only did we learn more about the indigineous culture by listning and observing but we got active ourselves as well by making chocolate from scratch and doing some ritual dancing.
There was also time for some sighseeing and during the day we did some challenging hikes through the rainforest.
In total we stayed two nights in the village and became really attached to the enthuastic kids and their loving parents. But who knows, maybe we'll have the chance to meet again!