April 24th, 2010
Angkor wat is visually, architecturally and artistically breathtaking. It is a massive three-tiered pyramid crowned by five lotus-like towers rising 65 meters from grown level.
Angkor wat is the centerpiece of any visit to the temple of Angkor.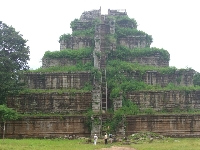 Koh Ker Siem Reap
At the apex of Khmer political and military dominance in the region, Suryavarman ll constructed Angkor wat in the form of massive "temple-mountain" dedicated to the Hindu god, Vishnu.
It as served his state temple, though the temple's uncommon westward orientation has let some to suggest that it was constructed as suryavarman ll's funerary temple.
Other temples of the same style and period include Thommanon, Banteay Samre, Wat Atwea and Beng Me lea, which may have served as a prototype to Angkor Wat.