March 8th, 2011
From Bangkok our bus trip took us into Cambodia where we started to drive in direction of Siem Reap, the city to stay in if you want to visit the Angkor region with its beautiful temples.
In Siem Reap we stayed at the Dead Fish Guesthouse, a beautiful bamboo built Hotel with a very friendly staff and some curious pet animals kept beneath the first floor..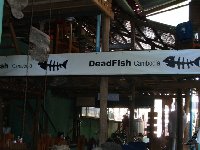 Trip to Siem Reap
The hotel has its own collection of crocodiles which are kept on the ground floor so mind your steps!
The room was ok but the best thing about the Dead Fish Hotel is its funky restaurant and of course its location.
I would recommend the guesthouse to people who are a bit open minded and don't mind missing out on luxury items on their travels. Besides it is a really good locartion in Siem Reap!