December 6th, 2010
Cambodia is one of the most fascinating countries in Southeast Asia with an incredible people and a stunning range of touristic attractions and sites like the many temple toured everyday.
Siem Reap has become world famous after the Angkor Wat Temple was featured in a wellknown action movie but outside of that project Siem Reap has been the center of a more important battlefield.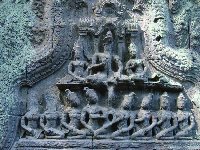 Travel Blog Siem Reap
Meaning Defeat of Siam, the city of Siem Reap reminds us of the long battle between Thailand and Cambodia many dynasties ago. The many temple ruins that were damaged and left behind today form a part of that history.
I would recommend to book a Siem Reap Temple Tour when you're in Cambodia to learn more about the country's history and to experience some of the most magical places on earth.
Some of the temples I visited during my stay in Siem Reap are the Siem Reap Angor Wat, the Prasat Bayon Temple, the Ta Prohm
Temple, the Ta Keo Temple, the Pre Rup Temple, the smaller Ta Som Temple and the Banteay Srei Temple. All located in the Angkor area where most tourists come to to visit the ruins of the Khmer Empire, definately one of the many gems in Cambodia.