July 14th, 2010
The UNESCO World Heritage Site of Angkor Wat is one of the most important archeological sites of Cambodia and a very important touristic attraction which draws a large number of people to the region of Siem Reap.
The Siem Reap region is located in the northwestern part of Cambodia and the monuments of Angkor Wat once represented the wealth and royalty of the Khmer Empire.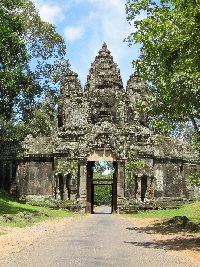 Where to go in Siem Reap
Today Angkor Wat, which means The Holy City in ancient Khmer, is still a magical and unique place.
The several monuments are all located in a lush green garden of beautiful plants and enormous trees who have taken possession of the temples.
The guided tours around the archeological site of Angkor Wat are very popular with tourists who want to know more about this almost surreal world in the heart of Cambodia.
A tour of Angkor Wat will leave you with enough time and space to explore the ancient Khmer temples and take pictures of the monuments. We started at the Angkor Wat temple which is placed gracely in front of this beautiful lake filled with flowers.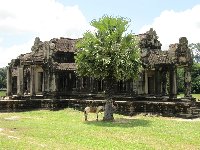 Where to go in Siem Reap
From Angkor Wat we continued our tour to the Bayon Temple, the Terrace of the Elephants and through a gorgoues gate on to the Angkor Thom. At Bayon we met a small Cambodian boy who sold us some of his precious bracelets, a great reminder of this beautiful place!
We also visited the monuments at Ta Prohm which were stunning with the temple left in the stranglehold of ancient trees, amazing!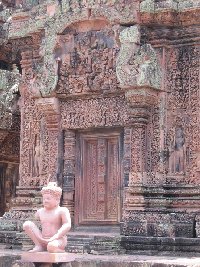 Also located in the Angkor area of Cambodia are the Pre Rup Temple and the Banteay Srei Temple, a gorgeous red sandstone temple built in the 10th Century in honor of Hindu God, Shiva.