April 27th, 2010
Making a list of the Things to Do in Taipei might seem easy but this city will surprise you with it's many attractions and you might want to delay your return flight!
Besides traditional stops at touristic places like The Grand Hotel, The National Chiang Kai-shek Memorial Hall and The National Palace Museum you'll discover tons of great shops and markets walking down Di Hua Street and Raohe Street known for its buzzling night market.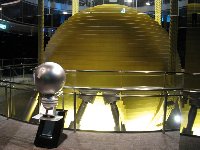 Pictures inside the Taipei..
If you want to observe Taipei from the air and enjoy a birds eye view of the city you can't miss the Taipei 101.
This giant skyscraper in the Xinyi District is an important symbol for the city and the perfect place to plan your sightseeing around Taipei.
The Taipei 101 is worth a visit both during the day when the Taipei 101 Mall is one of the best places in town to do some serious shopping as in the evening when it's all lit up and completes the Taipei Skyline.
The Taipei 101, or Taipei Financial Center, is the tallest building in Taiwan and between the most tallest buildings in the world. You can get to the observation desk passing all 101 floors by elevator.
The multi-level shopping mall adjoining the tower is home to hundreds of boutique stores, restaurants and clubs. O and you shouldn't miss the I LOVE Taipei letters in front of the building, but how could you!
We also visited several temples around and especially the Longshan Temple deserves a visit. The Longshan Temple is located in the Wanhua District where you will also find the Red House Theatre, The Huaxi Street market and the trendy Ximending neighbourhood.