October 23rd, 2012
For those seeking a holiday in a warm, tropical climate, look no further than the Maldives as holidays in this island nation are built around sun, sea and sand and we had an amazing time for our honeymoon! For great offers on Maldives holidays, be sure to check out Thomson Holidays and book a spot in this paradise.
With a selection of islands to choose from, something that the Maldives can boast about in particular is its huge collection of stunning beaches. With crystal clear waters and golden sand, it's taken directly out of a Hollywood movie with the way it displays its picturesque elegance and class.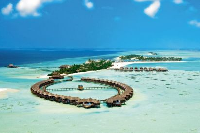 Travel Guide Reethi Beach
The beach at Kanuhura is perfect as the island is incredibly small and set apart from the larger islands. The resort is luxurious, offering spa treatments and various activities such as scuba-diving around the reef.The sand is soft and the structure is unspoiled and very natural; generally, the beach is dealt with by natural forces rather than human interference.
The island of Veligandu is another strong showing from the Maldives. The beach runs down both sides of the resort, with one half of the island thoroughly covered in fine grains of sand. With a nearby lagoon that is perfect for snorkelling, this beach offers much more than a simple lazy day by the water, encouraging its visitors to make the most of their experience.
Reethi Beach, this is where we spend most of our days, another exhibition of the Maldives' class, has seen a lot of changes in the last couple of years as staff have improved the resort and elements of the beach, aiming to blend the natural feel of the island with the resort around them. The beach extends around the island and travels down to where a collection of thatched-roof luxury villas sit out by the water.
Finally, Angsana Ihuru, once named the second best beach in the world, is a perfect location in every aspect, from its customer services to its jaw-dropping scenery. Though movements have been made to restrict the flow of sand from its banks, the beach remains unspoiled, offering an image that almost transcends reality.