May 5th, 2012
Ko Phi Phi Don is probably the best known island of Thailand as many tourists from all over the world come here to celebrate the famous beach parties and visit the beautiful lagoons and bays.
We had some really great weather, luckily when touring the beautiful waters around the different islands and also on our snorkeling trip but I also remember spending one night at the beach at one of the many beach bars when it started to literally storm and they told me that the weather at Ko Phi Phi Don can be quite unpredictable. It did not really bother us but then again we had a great time inside the bar and the next morning we had another sunny day so we could not complain!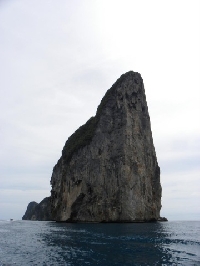 Travel Experience Ko Phi Phi Don
From Phi Phi we travelled down south to Ko Lipe which was a pretty bumpy speed boat ride but the views were incredibile. Ko Lipe is less crowded and a visit will stick with you as nature on this island is incredibile! Please keep in mind that there are no ATM machines on the island.