May 5th, 2012
Our holiday in Thailand kicked off in the capital city Bangkok which is a crazy place but definitely one of the cities that I love best. There is just always something going on, you can dine or eat out until late in the evening and the nightlife is amazing.
We stayed at the Eastin Hotel for four days and had a very good stay. The best part was the rooftop terrace with a view over the city of Bangkok.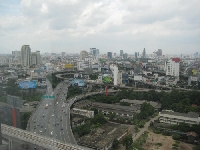 Holiday in Bangkok
We visited several temples and also went on a river cruise which was a lot fun. I would recommend staying 4 to 5 days in Bangkok if it's your first visit because there is just so much to see from the markets to the shopping malls to the different quarters.