May 7th, 2010
Dili is the capital of East Timor, also known as Timor Leste, and not a really touristic place. Walking around you won't see a lot of travellers but the number of humanitarian aid workers is still very high.
You will see UN soldiers and UNHCR officials in refugee camps and on the streets. The down side of this would be the rising prices of hotels and transportation, gas prices for example have gone up a lot.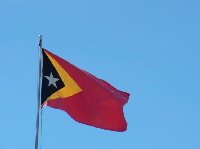 The flag of East Timor
Dili is a small town situated on the north coast of Timor Leste and has a relaxed vibe to it.
It reminded me of some Brazilian coastal towns which isn't strange considered the portuguese influences in East Timor.
The island was a portuguese colony untill the country decleared its independence from Portugal in 1975. Unfortunately Timor was attacked by Indonesian forces a few days later, an attack which led to a horrific battle which lasted for over twenty years causing a lot of damage to the country and its people.
Since 2002 East Timor has been put under UN surveillance with Dili as its capital city. Eventhough the indonesian militias destroyed most of the infrastructure and cultural patrimony on the island you can still find some monuments and statues from before the war and which were built by the portuguese settlers.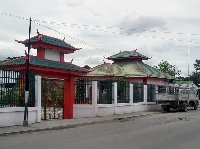 Chinese temple in Dili,..
A good example would be the Cristo Rei of Dili statue which is built atop a summit on a peninsula just outside of Dili and clearly looks like the statue of Christ the Redeemer, O Cristo Redentor in portuguese, which is situated in Rio de Janeiro, Brazil.
I also visited the Government Palace, the Church of the Immaculate Conception, which is stated to be the largest cathedral in South East Asia, and some local markets which are great for buying fresh fruit and beautiful tais, traditional textiles in bright colours and all kinds of prints.