May 10th, 2010
In Samoa we arrived at the Faleolo International Airport which is situated on Upolu Island where we started our Samoan adventure. From Faleolo we took a taxi to Apia, the capital of Samoa and a is the only bigger city of Samoa.
The island of Upolu is rather small and easily explored by car. To get from Apia to, for example, Lalomanu in the eastern tip of the island it will take you a little bit more than an hour.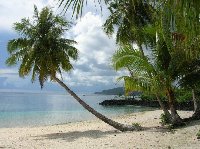 Trip to Apia
We followed the Coastal Trail, went to see the waterfalls in the O le Pupu-Pue National Park and took a day out to visit the Sliding Rocks. Nature seemed to be stunning everywhere!
From Upolu Island we took a boat to get to Savaii Island. We heard a lot of good things about Savaii and other tourists told us it was even better than Upolu so we decided to book the ferry.
After an hour and a half on the boat we arrived and it didn't take us long to see why people were so exited about this place. We visited amazing waterfalls, beautiful beaches, stunning blowholes and we finally got an encounter with the turtles!