May 12th, 2010
The island of American Samoa is situated in the South Pacific Ocean southeast of Samoa and territory of the United States. We arrived three months after the tsnumai and it was sad to see some places completely destroyed or heavily damaged.
It was also good to see how people tried their hardest to move on and rebuilt the society. The people were incredibly friendly and welcoming eventhough they sometimes had so little.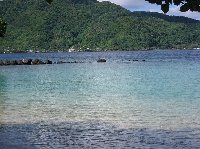 Travel Pago Pago
From Samoa we arrived on Tutuila Island, the largest island of American Samoa, where we landed at Pago Pago International Airport and took a ride to the small town of Pago Pago which is known for its thriving tuna canning industry.
We immediately noticed the same colourful busses as the ones we spotted in former Western Samoa and hopped on a beautiful flamed blue one to get to the guesthouse we had booked for the next three days.
American Samoa has a beautiful nature with the National Park of American Samoa just north of the capital and some amazing lookouts around Vatia in the far north of the island.
Pago Pago Harbor is also a beautiful area with the much photographed Fatu Rock at its entrance and a lot of pittoresque fisherman's villages surrounding the harbor.
We also travelled in the southern direction of the island to visit places like Leone with its beautiful white cathedral and the beaches on the islands different coasts like Freddies Beach, Larson's Beach and A'oloau Bay.