May 17th, 2010
Nukunonu is one of Tokelau's three island groups and part of the Duke of Clarence's group which is situated in the South Pacific Ocean between the two other tropical coral atolls of Atafu and Fakaofo.
The Tokelau archipelago can be divided into three island groups which are the Duke of York's Island group known as the Atafu atoll, the above mentioned Duke of Clarence's Island and the island group to which belongs the Fakaofo atoll, the D'Wolf's Island.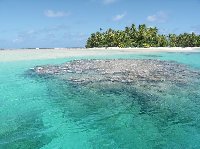 Travel Experience Nukunonu
From Samoa you can't reach Tokelau by plane but there is a ferry which connects the islands. From Samoa you can get on this ferry a few times a month so you do need to book ahead if you're planning on travelling up north and have to deal with a certain time frame.
We booked our Samoa Tokelau ferry ride at the Tokelau Apia Liaison Office which turned out to be the only office responsible for the booking of the ferry tickets.
The ferry ride was pretty challenging and took about a day and a half! We were lucky that the ocean waters were calm but there were some people who felt unwell.
We arrived at the Nukunonu atoll where we stayed at the Luanaliki Hotel which is one of the few hotels in Tokelau and most people who stay at the Atafu or Fakaofo chose to stay with a local family.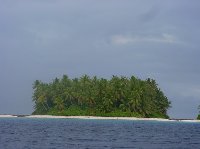 Travel Experience Nukunonu
The hotel was fine, the people very friendly and the island beautiful. During the days we stayed on the Nukunonu island we made several boat trips simply by asking locals for a ride and we had an amazing time.
Life on Tokelau is just really relaxing and between fishing and enjoying the islands natural beauty you won't find any shops or fancy places to go at night but we were ok with that. I would suggest people going to Tokelau to prepare your trip as good as you can and to make sure you bring everything you might need with you.