May 17th, 2010
After the week spend on Tokelau island Nukunonu we had planned to continue our South Pacific adventure and travel towards the Wallis and Futuna islands.
Unfortunately there is no airport in Tokelau so had to take the ferry back to Apia in Samoa first. Flying straight to Wallis airport was no realistic option after this heavy two day ferry ride so we decided to spend another night in Samoa before travelling west.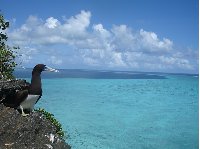 Trip to Mata-utu
After a bit of relax on Samoa where we stayed with some people we met during our first stay on the island we packed our bags to head to Faleolo airport.
The flight went well and the views from the plane were amazing. The islands of Wallis and Futuna are seperated by at least 200 km of South Pacific so we were going to take a flight to hop between these islands as well. Besides, after our Tokelau ferry adventure we had seen enough waves for the coming weeks.
We went to Wallis island, also known as ʻUvea, first and stayed for 5 days in the capital of Mata Utu before we travelled further down south to the island of Futuna where we spend another 4 days.
Mata Utu is known for its gorgeous cathedral which is an important french monumental building as the islands of Wallis and Futuna are french territory. You will also see the french flag in some places on the island but often right next to the island flag.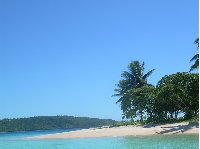 Trip to Mata-utu
While we did quite some sightseeing in the capital of Wallis we had a more relaxed stay on Futuna Island. We did visited the village of Poi with its beautiful St Pierre Cathedral, the Pyramids Cliffs on the islands east coast and did some inland walks.