May 17th, 2010
The Tuvalu island group lies to Samoa's northwest like Tokelau lies to its northeast. From Samoa we travelled to the islands of Wallis and Futuna and after about 10 days there we took our flight up north to Tuvalu's Funafuti Atoll.
We arrived at the Funafuti International Airport, Tuvalu's only airport and the gateway to the rest of the island group.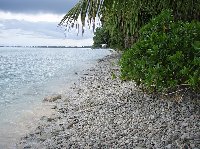 Tourism Funafuti
Funafuti Atoll is the capital of Tuvalu and here you'll find the majority of the We stayed at the Vaiaku Langi Hotel, Tuvalu's only hotel and a busy place so booking ahead would be wise.
From our hotel we had an amazing view of the Te Namo Lagoon, also known as the Funafuti lagoon.
While in Tokelau we had some trouble preparing for our trip since the island has no real shopping area we were happy to find an internet point in Funafuti which allowed us to send some emails and plan the rest of our travelling. You'll also find the National Bank of Tuvalu and its handy neighbour, Tuvalu Telecom.