May 26th, 2010
On behalf of Air New Zealand I made a trip to Norfolk Island for an airport emergengy exercise. Besides a business trip we also had a great stay on Norfolk Island.
Our accomodation was arranged in Kingston, the capital of Norfolk Island and ouside working hours we did several Norfolk Island tours which were all arranged by a comany called the Norfolk Island Pine Tree tours.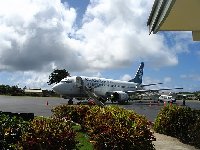 Tourism Kingston
Norfolk Island is a small island in the Pacific Ocea and is placed in the exact center of the Australia, New Zealand and New Caledonia triangle.
Like above mentioned countries nature on Norfolk Island is just as splendid and there are stunning bays, beautiful beaches, rocky coastal lines and of course, the island's signiture mark, the Norfolk Island pine tree which has become a national symbol.
Like Australia, and especially Tasmania, Norfolk Island has a history of convict transportation and penal settlements. Today these historic sites can be visited with, for example, Norfolk Island Pine Tree tours.
We also visited other places and tourist attractions of Norfolk Island like impressive Cemetary Bay, the Kingston Jetty, the Captain Cook Lookout, Bird Rock, Emily Bay, the Melanesian Chapel, Cathedral Rock and beautiful Anson Bay.