May 26th, 2010
The Republic of Kiribati is an island national which consists of more than 30 atolls all situated in the Pacific Ocean. The capital of Kiribati can be found on the Tarawa atoll and is known as South Tarawa.
To get to Kiribati we flew from Aucklang to Fiji and after a short stop here we continued our way to the Bonriki International Airport in the southeastern tip of Tarawa.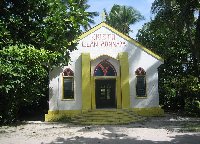 Travel Blog Bairiki
It would be impossible to compare the Bonriki International Airport to let's say the airport in Auckland because of its basic facilities but besides the yellow cardboard direction signs and wooden benches to sit on our flight was great and the atmosphere upon arrival was amazing!
Children were jumping on the benches trying to peek through the fence to get a glimps of our air pacific jet and everybody was smiling.
From Bonriki on the South Tarawa atoll you can reach the the other parts of the atoll via the Japanese Causeway, a road which connects the South Tarawa atoll and towns like Bairiki, Bikenibeu and Eita with the Betio Island in the far west of Tarawa that otherwise would be seperated by water.
Driving over the Japanese Causeway is simply surreal as you're driving in between the turquoise waters of the Pacific while palm trees decorate the side of the road.
Besides driving around we also did some boat trips to some of the smaller islets nearby Tarawa which was amazing because often you'll find the islands completely deserted and of an incredible beauty that's hard to compete with!