June 1st, 2010
In July of 2009 me and my wife went on a honeymoon to the Federated States of Micronesia, where we stayed on the island of Pohnpei where Palikir, the capital of the Federated States of Micronesia is located.
Eventhough Palikir is the capital city of the Federated States of Micronesia most tourists stay in and around Kolonia, the largest city on the Pohnpei Island, and so did we.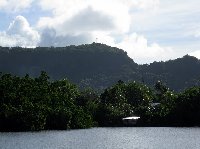 Tourism Pohnpei
We stayed at The Village Pohnpei Hotel which is located in the jungle just outside Kolonia with some amazing views of the Ocean.
The Village Hotel on Pohnpei Island has great bungalows and owns a good restaurant as well.
Pohnpei Island is known for its beautiful waterfalls and the Kepirohi Waterfall can't be missed if you're visiting this beautiful place. The best thing to do is to rent a vehicle a drive to the southeastern part of Pohnpei where the Kepirohi Falls can be found.
We also paid a visit to Nan Madol, an ancient city off the eastern island shore which is known for its old ruins and canals that run in between the different parts of the archeological site. A great trip to the other side of Pohnpei!