June 23rd, 2010
Pyongyang is the capital of North Korea and eventhough it is a less popular travel destination than the South Korean capital Seoul there are a lot of nice tourist attractions in Pyongyang that a worth a visit.
The Pyongyang Metro is probably the best way to make your way through the city and saves you a lot of time.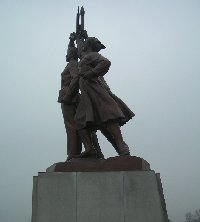 Holiday in Pyongyang
The Juche Tower that dominates the Pyongyang skyline is a reminder of the communist ideologies left by Kim Sung II, the former president of North Korea.
The Jucke Towe is a beautiful monument on the bank of the River Taedong and especially at night when it lits up and shines over the river the views are stunning.
Another Pyongyang attraction that draws a lot of tourists to the city is the tomb of King Dongmyeong which is a very peaceful place to visit.
By foot or metro we also visited the The Kumsusan Memorial Palace, also known as the former residence of president Kim Sung II, the Arc de Triomph which shows an exact copy of the French monument in North Korea and the city stadium where we managed to watch a football game.
The Arch of Reunification might be the monument that inspires best for the future proclaiming a better relation and unification of North Korea and South Korea, a goal that today might seem far away but is of great importance for the Korean people.