June 25th, 2010
This winter I made the diving trip of a lifetime. After a difficult year I decided it was time to live my life a little bit differently starting with a well deserved holiday just for me!
I started surfing the web for Fiji diving resorts and holiday packages that included diving trips on the Fiji reefs since I'm a total diving madman and I found some great deals for Nadi, a popular tourist destination on the island of Viti Levy and a loved place with divers.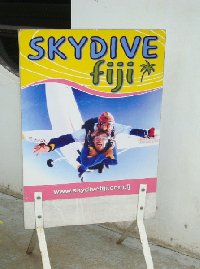 Trip to Nadi
After reading some Fiji diving reviews of other travellers I decided to contact some people to arrange accomodation on Beachcomber Island as well.
The great thing about Beachcomber, besides the amazing resorts or should I say huts on the beach is that you can do a tandem jump and excersize your skydiving skills, something I'd wanted to do for so long and could you find a better setting than the Fiji Islands?!
Of course you don't have to pre arrange your whole diving trip but since it was my first intercontinental holiday on my own I wanted to do things right.
I had a wonderful time, the skydiving was amazing and I met so many nice guys travelling. A great experience that I would recommend to anyone!