June 18th, 2011
In January of this year I came back from my Fiji backpacker island hopping adventure which I had lived to the fullest with my dear friend Vanessa.
Together we travelled to Nadi and arrived at Nadi International Airport located on the western side of Viti Levu Island. We had no travel plans, at least no schedules or to do lists and decided to travel whenever we felt like it.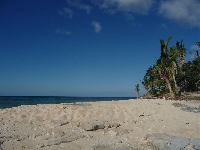 Holiday in Mana Island
This laidback way of thinking helped us a lot and made it easy to find our way to the backpacker community and get in contact with other travellers from allover.
We hopped on a boat with some girls from Sweden who invited us to their 'camp' on Mana Island a beautiful bounty island that belongs to the Mamanuca Islands lying to the west of Nadi and just as popular. We sayed here for a couple of weeks turning Mana Island into our second home in Fiji where we met new people and had some crazy nights on the beach. We also travelled to smaller island resorts like Kuata and so on, there's paradiso everwhere you look!