July 13th, 2010
Last May I went to Madrid with my boyfriend to spend some time together and experience a country we had never been before, Spain.
The period in which we went to Madrid couldn't be better as the weather in May is really nice, not too hot like in August but enough sunshine to call it a summer holiday!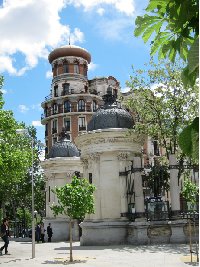 Vacation in Madrid
Madrid is a beautiful city and great for a short trip or weekend getaway if you're travelling within Europe.
I will never forget my trip to Madrid as we had a great time there with a lot of nice things to do and see.
During the day we went to see attractions like Plaza Mayor, the Royal Palace and the Sabatini Gardens while in the evening we went dancing or out for a drink. Madrid is so full of life with a ton of clubs and restaurants to keep your holiday spirits up!
I defintely would like to return to Madrid, for a short trip or maybe a round trip covering also the other parts of Spain.