January 3rd, 2010
Madrid is Spains largest city and has a beautiful centre with some architectual masterpieces. Walking through the central business distric you'll find some of the longest shopping streets and a number of beautiful plaza's like Plaza Major,Plaza de Canajelas and Plaza de Cibeles.
Madrid is also very popular with clubbers and party people. You'll find a wide range of clubs, bars and discotheques in the Puerta del Sol area where the Gran Via and Alcala Street are filled with young locals and tourists looking for a good time.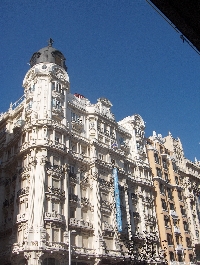 Vacation in Madrid
Clubs and bars stay open till late and streetlife in Madrid can get a little crazy. On every street corner you'll find club promoters handing out flyers with good deals and free entrances.
During the city calms down a little but remains pretty frenetic. Be careful where you walk because some parts might be a little bit dodgy..
During the day you can do some city exploring or head to one of the parks. The Jardin Botanico is beautiful to visit and you'll be sure to make some nice pictures of the more than 30.000 species of plants and trees which are all labled by name. The Jardin Botanico is right next to the Prado Museum and can be visited from 10 am to 8 pm.
Another good park is Parque del Retiro with its amazing lake. This is Madrid's largest park and the Retiro covers more than 130 hectares of woodland. You can hire row boats to cruise over the artificial lake, visit the parks rose garden or enjoy a BBQ dinner at the restaurant which overlooks the whole area.