July 18th, 2010
Reykjavik is the largest city of Iceland and especially from the Perlan, the landmark building of the capital city, you'll see just how pittoresque and beautiful it is.
I travelled to Reykjavik in July so the climate was rather mild, around 10 degrees, whereas in wintertime Iceland really honors its name and can be more than chilly.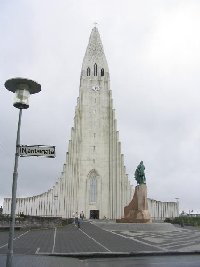 Vacation in Reykjavik
I did an internship of three weeks in Reykjavik this July but had been there before to do some research work and I must say that it remains a city that fascinates me for its stunning nature and immense calmness.
I came across some tourists which was really nice and met a French guy who stayed in Iceland for about the same period as I was so we did some of the sightseeing together. During the day we visited sites like the Hallgrímskirkja chich, which is the largest church in Iceland and offers a great view of the sea and the Reykjavik harbour.
Besides cultural sites downtown Reykjavik offers some shopping as well with main streets like Laugavegur as one of the oldest and best known shopping streets.
Laugavegur street is also a great place if you're looking for something to at night because this is probably the place to be as far as nightlife in Reykjavik concerns. We tried some of the restaurants and bars here and had a great time.