June 13th, 2011
My trip through Iceland started in capital city Reykjavik where I landed and rented a car to be able to cruise around this gorgeous Island. I soon found out that this country is nothing like any other place I had ever been to before and nature here is so pure that it seems unreal.
From Reykjavik I travelled to places like Thingvellir, Strokkur, Gullfoss, Skatti, Eyjajallajokull, Seljalandsfoss, Skogafoss, Barnafoss, Deildartunghuver and Grabrok cruising along the South and East Coast of Iceland being my own travel guide and enjoying life to the fullest.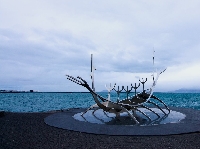 Trip to Reykjavik
The greatness of the landscape gave me an incredible sense of freedom and serenity which I had never experienced before. The fields on the sides of the road are greener, the falls fall with a greater intensity, the geysers, the clouds, the wild horses, the mountains, it was all one explosion of beauty and I will definately return!