July 20th, 2010
One of Namibia's qualities is that the country is so divers and has a lot of different landscapes and travel experiences to offer. During our trip through Namibia we travelled through the country for one month, starting in the capital, Windhoek.
With this travel blog I would like to write something every now and then about our trip, hoping to cover all these special parts of Namibia, because its a beautiful country to travel to.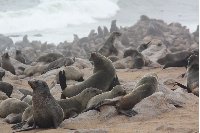 Vacation in Cape Cross
Cape Cross is located on Namibia's West Coast and forms the home and resting place for a large seal colony.
The Cape Cross Seal Reserve is one of the tourist attractions of Namibia's West Coast and especially in the months of November and early December a very special place to visit. In this time of year the brown fur seal pups are born and visiting Cape Cross in these weeks will leave you with some great memories.
The Cape Cross Reserve is located north of Swakopmund where desert grounds contrast with the beautiful coastline. It would be nice to combine a visit to one of the world's largest seal colonies with a desert tour in Swakopmund, but then again, there is so much to see!