September 24th, 2010
The trip, or should I say expedition, my family has been on in Namibia, has been an unforgettable journey from beginning to end.
My husband and I had wanted to visit Africa for so many years and finally took the chance when we booked this amazing lodge safari tour alongside some of Namibia's most impressive sites.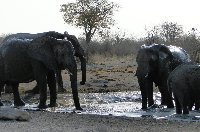 Travel Guide Otjiwarongo
The tour took us through the Kalahari Desert and showed us so many amazing places that I still can't pick my favourite spots.
Namibia is such a beautiful country with some amazing contrasts and we managed to see a great part of it.
During our lodge safari trip we stayed at lodges throughout Namibia and were able to enjoy the view in some of the most majestic places like the Kalahari Desert.
We also visited a Himba tribe in northern Namibia which was really interesting and it was a great way to learn more about Namibia's indiginous culture and traditions.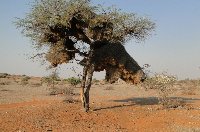 Travel Guide Otjiwarongo
Of course our safari programme was filled with wildlife tours and our stay at the Africat Foundation west of the Waterberg Plateau was something I will never forget, nor our children!
We stayed at a lodge called the Okonjima Lodge which is the heart of the Africat Foundation and their learning center. We went on several safari tours to spot some of their animals in the wild. The Africat Foundation not only provides amazing safaris but is also a great cause to support as they rescue cheetahs and leopards that are hurt to rehabilitate them and release them back in their natural environment.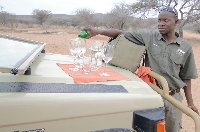 We also spotted a lot of other wildlife during our stay in Namibia like the seals at Cape Cross or the zebra's, elephants, giraffe's, hyena's, lions and other wildlife throughout or many wildlife expeditions.
The Kalahari Desert is a stunning place and the best way to visit would be through a booked tour like we did. We stayed at the Bagetelle Kalahari Game Ranch which was very nice.