August 16th, 2010
Namibia was the last country we would travel through before returning to South Africa where our tour had begun and so we were making our way down to the southern part of the country heading from Kamanjab where we visited the Cheetah Park to Usakos.
Usakos is located in the Namib Desert and is the nearest town to the Spitzkoppe Mountains where our next rest camp would be pulled up.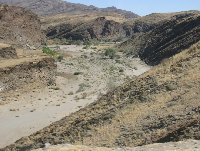 Vacation in Usakos
The Spitzkoppe Peaks are located in between Usakos and Swakopmund, which are connected by the Trans Kalahari Highway, more to the western coast of Namibia and are popular with climbers and other adventure seekers like ourselves trying to camp out in the desert of Namibia.
Luckily we were well equiped with and created a professional camp site in no time. All supplies were kept in our touring bus which looked more like a military vehicle.
The Spitzkoppe Mountains are beautiful and every sunrise will be well worth the camping trip as the sight of the golden peaks dominating the desert is simply magical.