August 16th, 2010
The Fish River Canyon in the south of Namibia was the last of all our travel destinations, a last hike up to the largest canyon in the world and one of the most visited places in Namibia.
After our Southern African adventure travelling through South Africa, Zimbabwe, Zambia, Botswana and now Nambia we had an amazing journey to look back upon and walking through the Fish River Canyon made us realize how special this trip had been.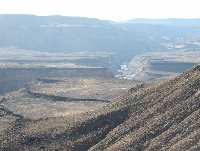 Tours Ai-Ais
It all had started in Cape Town and now we had completed the loop, a trip I will never forget and if possible would want to relive again.
The Fish River Canyon is located in the southern tip of Namibia, just above the border with South Africa and near Ai-Ais. Most hikes though start from Hobas which lies a bit more to the north and is known as the start of the Fish River Hiking Trail, one of the most challenging hiking trails which will take you upon a 85 km trail without any facilities down the road.