November 7th, 2010
Namibia is such a fascinating country and of all the countries on the African continent it was definitely my first choice.
Together with my friends we had decided to go on a holiday to Africa but still had to make the final choice between South Africa and Namibia, both amazing travel destinations.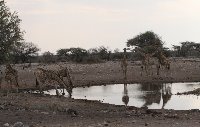 Where to go in Etosha National Park
We went for Namibia, something none of us would regret!
The tour was a pre booked tour of two weeks including accomodation, guided trips and meals.
We did all kinds of amazing stuff like quad driving in the desert of Namibia, going on a jeep safari through the Sossusvlei and of course a lot of relaxing as well. We visited Swakopmund where we had some real beach time which was really nice and gave us the opportunity to see a different side of Namibia.
But the thing that stuck with me the most would be our trip to Etosha National Park, what an incredible journey! It was the first time for me in Afrika and of course the first time to go wildlife spotting, and what place better to do that in Etosha National Park?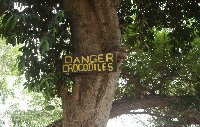 Where to go in Etosha National Park
The park was beautiful and our guide knew exactly where to take us to spot the animals in their own habitats. The best and most common place to watch the resting animals is the Etosha Pan which dominates the park.
The Etosha Pan contains waterholes where animals like giraffe's, elephants, wildebeests, lions, leopards, zebra's and a whole lot of other wildlife come together to rest at the water making it a perfect place on the safari trek. I still have to thank my parents who gave me this amazing camera at my departure and without it I probably would not have had such great memories!