July 21st, 2010
The Sultan Omar Ali Saifuddin Mosque is the most important site for tourists and locals alike in Bandar Seri Begawan, the capital of Brunei. Visiting this masterpiece is a must do on any traveller's list.
Besides a visit to the Sultan Omar Ali Saifuddin Mosque I would also recommend a boat ride over the Brunei River to the Kampong Ayer village. Most taxi boats will offer their services anywhere along the river but it isn't strange to ask a normal passenger for a ride to the village.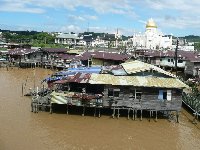 Tours Bandar Seri Begawan
The people are really friendly and when we asked a local fisherman for some information on how to get to Kampong Ayer he offered us a ride himself!
Kampong Ayer is a self maintaining watervillage built on stilts and the wealth and growth of the Sultanate's civilization started right here where skilled craftsmen lived of fishing and hunting.
The view from the boat is not only that of the Sultan Omar Ali Saifuddin Mosque but also that of the locals living by the river. The wooden houses and houseboats may seem instable but are often home to large families up to 12 people our guide told us.
It was so cute to see the children in Kampong Ayer standing on their porches waving at the boat, as if they were welcoming us into their watervillage.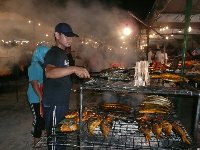 Tours Bandar Seri Begawan
Besides the small wooden cabins we also saw larger houses painted in beautiful colours and with spacious veranda's, all constructed on the water from mosques and houses to restaurants and even gas stations, unbelievable!
We had an amazing time in Kampong Ayer and heading back to Bandar Seri Begawan we thanked our guide and continued our sightseeing in the capital of Brunei. Of course we went to take a closer look of the Sultan Omar Ali Saifuddin Mosque and the beautiful ship posing in front of it.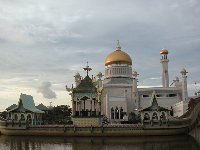 That night we strolled down the local nightmarket and found a very good grill restaurant to relax and think over one of many exciting days spent in Brunei.