July 26th, 2010
Guam, island in the South Pacific, located in Micronesia and for three weeks our paradise on earth. Together with my brother our pacific adventure was ready for take off!
We stayed on Guam island for a total of three weeks after which we travelled to Saipan, part of the Northern Mariana Islands and another dreamy travel destination on our wish list.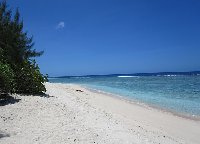 Where to go in Tamuning
On Guam we stayed at Tumon, the tourist capital of the island and buzzling center of the Tamuning village or municipality.
In Tumon we rented a car to be able to move ourselves without depending on public transport and being able to explore other parts of the island.
Guam has a lot of nice places to see like the Two Lovers Point which tells the story of two lovers not being able to be together because of their families. Their forbidden literally love pushed them over the edge of the Two Lovers Point as they tied their hair together and held their hands for the last time.
A dramatic story that is the legend of a beautiful place. Today the story goes that at night exactly above the Two Lovers Point two stars twinkle in the sky as the two lovers finally rest high up there and who blames them, the panorama over the Bay of Tumon is stunning!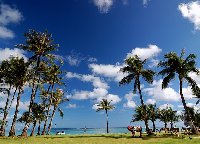 Where to go in Tamuning
As for beaches we liked Ritidian Beach on the north coast of Guam where the number of tourists is still very low and its the perfect place for a relaxing day. The water is so crystal clear you can see the granes of sand dancing in the waves beneath you.
Tumon is also a nice place to stay if you're looking for some nightlife in the evening and there are a lot of nice restaurants and bars to enjoy yourself a good meal or drink. The Hard Rock Cafe oppure but also Planet Hollywood were two of our favourite places.