August 2nd, 2010
I love Asia and about two years ago I left for a one year trip around this beautiful continent visiting a lot of different countries without having to experience them in a hurry.
To realize this dream of mine I had saved up some money and fortunately with Asia not being the most expensive continent I always managed to find some good deals for places to stay and excursions to sign up for.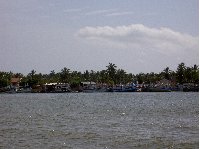 Vacation in Negombo
I'll try to post some blogs every now and then covering some of my roundtrip! Sri Lanka was one of the many countries I visited and like them all stole a little peace of my heart.
Negombo was one of the first places I visited and I stayed here for about two weekd to relax and to get to know the local culture and see some of the Western Province of Sri Lanka. Negombo is located about 40 km north of Colombo and during a stay in this part of the country you can easily take a bus ride or tuk tuk service to visit both.
In Negombo I stayed at this place called the Ocean View Guest House which was really nice because it was right on the beach. To get to Negombo city I usually walked as it was less than 1 km I think, anyway there's enough to see at the roadsides so I would recommend going for a walk.
From the guetshouse in Negombo there were a lot of excursions you could sign up for which all include a guided driver for the day and of course an interesting tour programme. If you're not planning on travelling downsouth in direction of Colombo you could always plan a day trip excursion with the guesthouse.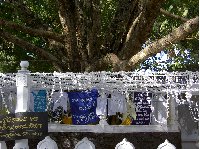 Vacation in Negombo
Negombo itself has a lot to offer as well and besides the beach I liked to just stroll around and visit the churches and temples.
Especially the Agurukaramulla Pansala, a Buddhist temple is very beautiful with the gorgeous wall paintings and colourful buddha's. The Agurukaramulla Pansala is also an important temple for Sri Lankan people living in other parts of the country as once a year they head to Negombo to worship all together.