August 18th, 2010
This year I went to Sardinia on a holiday where me and my family stayed for two weeks in Cagliari, the island's capital city. Cagliari is a very nice small town without the chaos of other Italian capital cities and it's the perfect place if you're planning a beach holiday.
The best thing to do in Sardinia would be to rent a car so you can explore places around Cagliari and visit other places like Pula, Quartu, Villasimius and many more seaside towns that are worth a visit.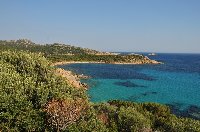 Holiday in Cagliari
We spend most of our time in Cagliari and Pula which are less than an hour apart and easily reached by car.
Pula is a nice alternative if you want to change beaches and the area here is absolutely stunning.
Not to talk about the food! We had our favourite restaurant called S'Incontru which means something like the place of gathering and after you've tasted the food you understand why people keep coming here!
We had a great two weeks and went back home completely relaxed and will definitely return to Sardinia.