May 3rd, 2012
Last summer I visited some relatives in Cagliari and added a holiday to the occasion. I spend about a week in Cagliari to catch up with everyone and went on several boat trips to explore the southern coast of Sardinia which is absolutely stunning.
The boulevard along Via Roma is very relaxing and making your way to Piazza Yenne you will find a wide range of shops and nice restaurants where you can try the freshest seafood!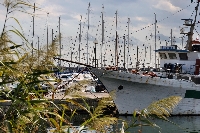 Travel Blog Cagliari
I added some photos of the harbour area of Cagliari but of course there is plenty more to see! The best thing to do is to rent a car at the Elmas Airport and tour along the coast and visit lovely places such as Villasimius but also nearby beaches like Poetto and Quartu Sant' Elena.