August 30th, 2010
Me and my boyfriend made a trip to Malaysia and Thailand and stayed at the gorgeous island of Langkawi.
After arriving at Langkawi International Airport we were picked up by a staff member of the Sunset Beach Resort where we stayed during our beach holiday in Malaysia.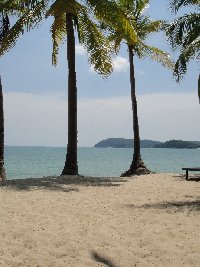 Trip to Langkawi
One of the major drawcards of Langkawi, besides the beaches which can be considered at the top of South Asia's most stunning beaches if you ask me, is the Lankawi Sky Bridge.
The Lankawi Sky Bridge is a large cable-stayed bridge which curves across the mountains offering spectacular views of the Andaman Sea and even Turatao Island in the very south of Thailand.
The Lankawi Sky Bridge reaches a height of 705 meters above sea level and there are two big platforms from where you can get an even larger panoramic view of the entire area.
Where is the Langkawi Sky Bridge? The Lankawi Sky Bridge can be reached by cable car up the Gunung Mat Chinchang mountain, just ask for the Oriental Village Cable Car service and from there the cable car will take you up the sky bridge.