October 14th, 2010
During our month of holiday in Malaysia where my boyrfriend and I basically tried to see as much as possible of the country we also travelled to a place called Pangkor Island which, if you would ask me, is a true Malaysian gem.
On Pangkor Island we stayed at the Pangkor Island Beach Resort which had all kinds of facilities and the staff of the resort did everything within their power to make our stay an unforgettable one.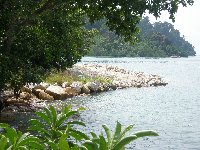 Tours Pangkor
We stayed on Pangkor Island for three days and spent most of our time relaxing on the beach and doing some sightseeing.
For example we visited the Fu Lin Kong Temple, a beautiful Chinese temple and went to see some fishing villages.
Again the resort was a great refuge to calm down and relax after a day of sightseeing and I would recommend the Pangkor Island Beach Resort to anyone travelling to Malaysia.