October 29th, 2010
As we arrived on Penang Island by ferry from Butterworth we could already see the skyline of Georgetown, the capital city of Penang and the ferry terminal of the island.
Georgetown is also the place where our Penang holiday took off with some serious sightseeing.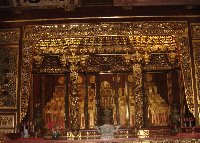 Travel Penang
We went to see the Khoo Kongsi Temple, which is a Chinese temple and represents the large Chinese community on Penang Island.
At the same time this is probably one of the major touristic attractions on the island.
The Khoo Kongsi Temple has an impressive design and both the exterior as the interior are really beautiful with painted dragons at the entrance and a beautiful golden altar in the center of the temple.
The Wat Chaiya Mangkalaram, known as the Thai Buddhist Temple is also one of the most visited temples in Georgetown with beautiful decorations and shrines.
Back in town we did some local shopping at the street market and went to see the Penang City Hall building. During our stay in Georgetown we had booked a room at the Sunway Hotel which had a great view and a friendly staff who provided us with all kind of travel information.