September 3rd, 2010
This summer I've been on a holiday in Jordan by myself. I had always wanted to travel through the Middle East and had heard a lot of positive things about Jordan and places like Amman and Petra in particular.
After some visits at my local travel agency I had read some of the travel package deals and decided to book a bus round trip through Jordan starting in Amman.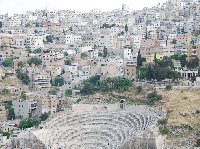 Tourism Amman
Amman is one of the many popular places to visit in Jordan as it's home to several ancient Roman sites that can be visited while in Amman.
Amman is also the capital city of Jordan and therefor the city to start a roundtrip for most travellers. During our stay in Amman we stayed at the Gardens Hotel which was fine. To visit the various sites around the city we were picked up by our touring bus.
I really liked the Roman amphitheater in Amman and it made me recall my visit to the Italian city where I had visited the colosseum a year ago. You could see similar detaills and recognize the Roman constructions, really interesting considering the fact that the two places today are very distant.
From Amman City we continued our way in direction of Petra but not without paying a visit to Amman Beach on the Dead Sea.