October 11th, 2010
During my honeymoon in the Philippines my wife and I stayed at the KokoNuss Garden Resort in Coron and had a fabulous stay.
The resort in Coron, which is located within the Palawan Province, on Busuanga Island, was a perfect and very romantic getaway accomodation in our own little paradise.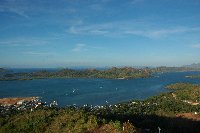 Travel Coron
The views were amazing and the KokoNuss Resort was able to arrange all kinds of day trips to keep our stay exciting.
We went on a Calauit Island wildlife safari which was a lot of fun and it was great to have teh opportunity to go on such an adventurous trip that close to the resort.
Our safari guide told us that the wildlife present on Calauit Island was important from Africa when it suffered from great draughts and the animals risked their lives if they were not transported to other exotic destinations abroad.
Unfortunately we didn't go scuba diving since Coron, and Busuanga Island as a travel destination, is very popular for the great marine life and coral reefs. We did snorkel a few times and as an amature I must say it was an amazing underwater world!